Full-time and part-time options to complete an online master's in American Journalism
Please note:
The three writing courses must be taken in order: Reporting the News, Feature Writing, then Long-Form Narrative.
You may take summers off as long as you complete the program within 5 years.
Every course is worth four credits, except The Working Journalist which is two credits and must be taken last.
Example Pathways to Graduation
Complete in 1 year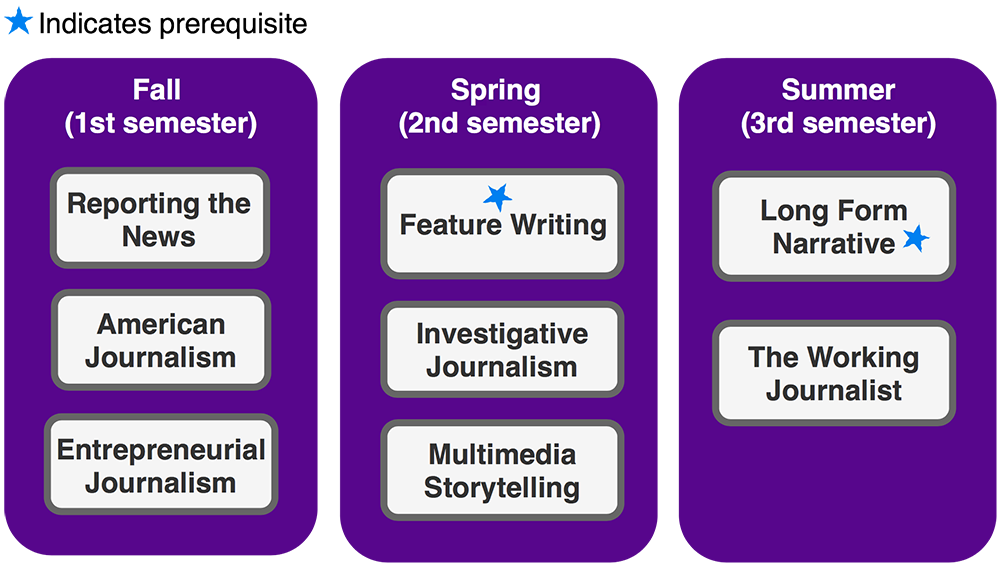 FALL (1st semester)
American Journalism
Reporting the News
Entrepreneurial Journalism
SPRING (2nd semester)
Feature Writing
Investigative Journalism
Multimedia Storytelling
SUMMER (3rd semester)
Long-Form Narrative
The Working Journalist
Complete in 1.5 years
FALL (1st semester)
American Journalism
Reporting the News
Entrepreneurial Journalism
SPRING (2nd semester)
Feature Writing
Investigative Journalism
Multimedia Storytelling
SUMMER (3rd semester)
Long-Form Narrative
Or take the summer off
FALL (3rd semester)
Long-Form Narrative (if not completed over the summer)
The Working Journalist
Complete in 2 years

FALL (1st semester)
American Journalism
Reporting the News
SPRING (2nd semester)
Multimedia Storytelling
Feature Writing
SUMMER (3rd semester)
Long-Form Narrative
Or take the summer off
FALL (4th semester)
Investigative Journalism
Entrepreneurial Journalism
SPRING (5th semester)
Long-Form Narrative (if not completed the previous summer)
The Working Journalist