Yifan Yu Wins 2018 Overseas Press Club Scholarship
Yifan Yu was named an Overseas Press Foundation Scholar for 2018. The awards are for students who aspire to careers as foreign correspondents. YIfan, who was one of sixteen students honored in a nationwide competition, won the Jerry Flint Fellowship for International Business Reporting. Her essay for the competition focused on Chinese startup companies. The award luncheon was held on February 23, 2018.
---
Two BER Students Win Deadline Club Scholarships for 2018
Two BER students were among the five recipients of Deadline Club scholarships for 2018. Yasemin Esmen and Chibuike Oguh, according to the Club, "demonstrated an extraordinary dedication to wanting to tell the stories of underrepresented communities, and uphold the standards of truth and fairness." Each received a scholarship of $2,500. The Deadline Club is the New York chapter of the Society of Professional Journalists.
---
BER Alumnus Charles Rollet Named Finalist for Gerald Loeb Award for Distinguished Business and Financial Journalism
Charles Rollet was a member of a Wall Street Journal team named as finalists for the Gerald Loeb Award for Distinguished Business and Financial Journalism. The team was cited in the International category for "China Surveillance State." Charles worked on that story while an intern at the Wall Street Journal during the summer of 2017. The Loeb Awards will be presented at a banquet on June 25 in New York City
---
BER Alum Jay Yarow Awarded Journalist of the Year
---
NYU Business and Economic Reporting students win five of the six scholarship awards given in 2017 by the New York Financial Writers Association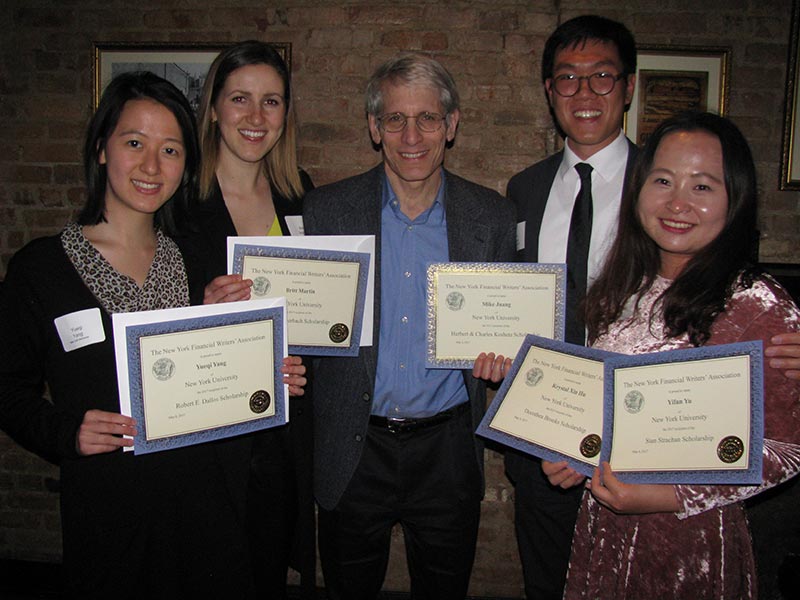 The merit-based competition is open to any graduate or undergraduate student in the New York tri-state area who is interested in business journalism.
---
BER Students Studied in London in May 2016
---
Lecture by Former Federal Reserve Chairman Paul Volcker, April 23, 2014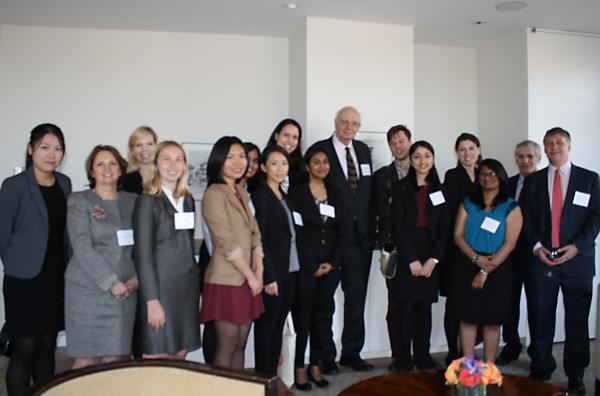 Federal Reserve Chairman Paul Volcker delivered BER's first annual Marjorie Deane Lecture on April 23. BER students met privately with Mr. Volcker to talk about the recovery from the financial crisis and coverage by the business press. Later, there was a conversation and dinner attended by students, faculty, and financial journalists.
---
BER Students Win Competitive Scholarships
BER student Yun Lu won a 2014 scholarship from the Foreign Press Association.
BER student Carl O'Donnell won a 2014 scholarship from the New York Financial Writers Association.
BER student Anders Melin has won a 2013 scholarship from the Overseas Press Club.
BER students Anders Melin and Jamie Lee have won 2013 scholarships from the Foreign Press Association.
BER student John Kapetaneas has won a 2013 Peter Agris Memorial Journalism Scholarship.
---
Marjorie Deane Foundation Supports Professorship, Fellowships, and a Week of Study in London for BER Students
NYU has named Professor Stephen D. Solomon, director of the program in Business and Economic Reporting, as the Marjorie Deane Professor of Financial Journalism. The professorship is made possible by generous contribution by the Marjorie Deane Financial Journalism Foundation.
The Foundation's support makes possible the following new benefits for students of the program:
Marjorie Deane Fellowships: The program awarded fellowships to several excellent students accepted into the BER program for Fall 2015. Each fellowship provides tuition, registration fees, and a stipend for one semester (or possibly more) of study. The admissions committee notifies an applicant of his or her selection at the time of acceptance into the BER program.
Study in London for a Week: The BER program takes its students each year to City University London for a week to study the financial systems of the United Kingdom and the European Union. The London program deepens each student's understanding of international aspects of business and finance. The BER program provide subsidies that cover most or all travel expenses.
---
Visiting Scholar in the BER Program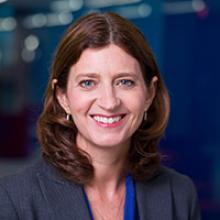 The program welcomes Rebecca Blumenstein, deputy managing editor of The Wall Street Journal, as a Visiting Scholar. In addition to regular faculty, visiting scholars provide assistance to our students. Previously, Rebecca served as WSJ's China Bureau Chief, Page One editor, and managing editor of The Wall Street Journal Online.